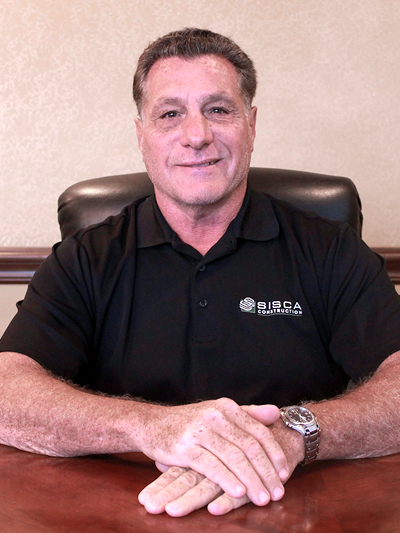 Charlie Sisca
Managing Member
Charlie has been in the construction and real estate development business his whole life. He started SCS in 1999 with one employee and is presently engaged in on average $20,000,000 in commercial construction per year with 20 employees. Sisca Construction built its current corporate offices in 2004, located on Okeechobee Boulevard in West Palm Beach. The company services and works throughout South Florida. Charlie's business model or philosophy is "THE GOLDEN RULE" of what goes around comes around. That you should treat everyone with respect and always do the right thing. The company's growth and success has been based on that foundation and why it adopted the tagline "BUILDING THE FUTURE TOGETHER."
---

Sherrie Sisca
VP of Operations
Sherrie, in her role as a VP of Operations is responsible for all office administration and staff, while monitoring and enforcing company procedures and policies. Sherrie also maintains all office systems and oversees information technology for all company communications, computer software and hardware systems. Sherrie joined Sisca Construction in 2002 and became a vested Partner in January, 2007.
---

Doreen Hair
VP of Preconstruction
Doreen, as Senior Project Engineer provides Hands-on work with Governmental agencies in all facets including but not limited to Site Plan Approval, Permitting, Pre-Construction Coordination, plan revisions, utility permitting, FDOT permits, Health Dept. approvals, inspections and project close out. Doreen is a construction professional who manages both client and subcontractor relationships for Sisca Construction and brings with her over 20 years of construction experience dealing with complex projects and various municipalities spanning Florida. As a Green Building Certified professional and a LEED Green Building Associate, Doreen is able to provide Green Building alternatives for projects.
---

Kathy Prater
Controller
Kathy, as controller manages day to day accounts payable, accounts receivable, payroll and job costing for all of Sisca Construction projects. Kathy works closely with Charlie Sisca on Financial Reporting and accounting for the company.
---

Roger Lovejoy
Senior Estimator
Roger, as Senior Project Estimator, is responsible for Managing the Estimating Department and Staff. He is also responsible for preparing and coordinating complete cost estimates for all private construction projects. It is his job to review and interpret plans and specifications as well as solicit sub-contractor and material bids to ensure that the project is bid in accordance with the owner's specifications to meet the desired results of our customers.
---

Brad Samples
Senior Estimator
Brad, as Senior Estimator, is responsible for overseeing the Preconstruction department and staff. Brad also prepares and coordinates cost estimates, reviews and interprets plans and specifications while providing Value Engineering options for Clients. He is also responsible for targeting potential projects, recognizing market trends and oversight of all bids, proposals, RFP's and RFQ's. As Senior Estimator, Brad also oversees all Pre-Bid conferences, solicitation and approval of new subcontractors and final estimate approval.
---

Beau Sisca
Project Manager
Beau as the son of Charlie Sisca has worked in the construction industry for most of his adult life. He started with the company as a Project Superintendent and has transitioned into the roll of Project Manager. In his role as a PM Beau is responsible for Project Scheduling, Management and Subcontractor relations on all of his projects.
---

John Johnson
Safety Manager and Senior Project Superintendent
John is a Superintendent with proven expertise in coordinating projects from site excavation to final Certificate of Occupancy. With a strong work ethic and commitment to providing attention to detail and quality workmanship, John is an asset to the company. As the Safety Manager for our company, John serves as a proactive manager who ensures our incident free safety record.
---

Vishnu Billa
Estimator/Jr. Project Manager
Vishnu as and Estimator and Jr. PM works directly with our Chief Estimators on preparation and coordination of cost estimates, value engineering, RFP's and RFQ's. As Jr. Project Manager Vishnu works with the Project Managers and Field Supers on various ascpets of the projects such as Shop Drawing review and coordination, scheduling and subcontractor management.
---

Buddy Sisca
Chief Puppy Officer
Buddy Joined Sisca in January of 2016, and has become an integral part of our staff over the last three years. Buddy's responsibilities include Greeting all visitors to the office and checking the door regularly. Buddy is also in charge of office cleanliness by carefully observing every bite of food eaten by staff to ensure not even a crumb is left on the ground, therefore preventing an ant or insect infestation. Buddy's most important role for the company is the implementation of the employee uplift program and the positive culture of the office. Buddy is responsible for sniffing out stressful situations and diffusing them by offering tail wags, hugs and a positive outlook to every situation.